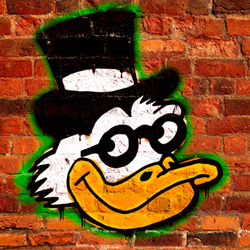 Become an Avian Artist!
Louis the Goose is one crude goose with an attitude! Graffiti Goose is a collaborative puzzle game made by Red Triangle Games & Spoonweaver Studios with an original soundtrack by Glock & Mr8Bit. With his magic hat, Louis will try to paint walls across 24 levels of increasing difficulty! Every turn Louis will be able to blast the wall with a shape of a primary color, but the only way to become an avian artist is to mix your primary colors to create secondary colors! If you run out of time or moves, then that determined Dog Cop will make sure you won't paint anymore. Use your knowledge of mixing colors to secure the highest score and dodge that cop in Graffiti Goose!
Graffiti Goose is designed with the mobile gamer in mind. The entire game is touch based. Each move you make is worth a different point value, and it's up to you to manipulate the colors and dodge the cop as best you can to get the highest score. Primary colors are worth 1 point, secondary colors are worth 10, blank tiles are -1, a brown tile is worth -20, and finally a mess is worth -25.